The use of colour on the exterior of a building is more than a surface treatment but a significant part of its architectural expression. Colour use on heritage buildings was part of the original architectural design and intent. Incorporating authentic heritage colour and placement appropriate to the region, era and style in which a building was constructed can be the finishing step in restoring the integrity of heritage architecture. The use of appropriate historic colours can reveal and emphasize the building's original style and appearance.

Many paint manufacturers have produced heritage paint palettes which can be used to select appropriate colours for heritage properties. They include: Beauty Tone (Designer Series) Benjamin Moore (Historical Colour Collection), Farrow & Ball, Home Hardware (Heritage Series), Para (Historical Colour Collection), Pratt & Lambert (selected colours), Sherwin Williams (Preservation Palette), Homestead House Paint Co. (Canadiana Historical Paint Colours). Rather than limit or restrict colour choices, these extensive paint palettes assist in quickly identifying colours that are appropriate for a heritage property significantly simplifying the colour selection process.



indows on historic buildings make a significant contribution to the overall architectural character of a heritage property. The size and proportion of window openings, their location on a building, the material they are made from and their finishing details help to define the architectural style of a heritage property. Original wood windows do not need to be discarded and replaced with new vinyl clad windows. They only need to be maintained and repaired.

All windows need to be repaired on a regular basis. Wood windows will last indefinitely if they are repaired, painted, puttied and weather-stripped. Traditionally, this type of maintenance would be completed in the spring or fall when storm windows were removed or reinstalled for the winter season. Historical wood windows are made so that the frames, sash and muntin can be easily taken apart in sections and any deteriorated section can be replaced. By contrast, when serious problems develop with modern windows, it often results in the replacement of the entire window unit.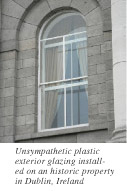 Often wooden windows are replaced or covered by exterior metal storms in an effort to improve energy efficiency. But these types of installations may not necessarily provide an air tight solution. Careful weatherstripping of older, single pane wood frame windows will dramatically improve their energy efficiency. It is also possible to have custom wood storm windows made to order. This will also reduce condensation on interior window surfaces during the winter months. If exterior wood storms are not desirable because of the maintenance factor, consider interior storms as an alternate solution.

Research has proven that historic wooden windows used in combination with a high quality storm window will thermally outperform a new double-glazed metal window which does not have thermal breaks (insulation between the inner and outer frames intended to break the path of heat flow). Additionally, wood has far better insulating value than metal.

Repair and weatherization of existing wooden windows is more practical than many people realize. Many wooden windows are replaced because of the lack of awareness of the techniques to effectively repair and weatherize. Wooden windows if properly maintained will have an extended lifespan and will assist in maintaining the integrity of the appearance of a heritage property.